Eudunda – Awarded 2014 Regional Winner – Mid North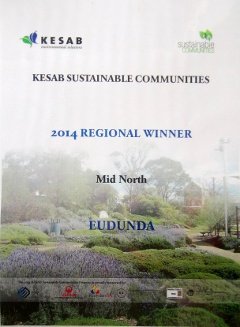 Celebrations will again be in order at the Eudunda Australia Day Breakfast in the Centenary Gardens (Colin Thiele) on the 26th Jan 2015 as the community celebrates with ECBAT that Eudunda has won this significant award for the third time .
EUDUNDA – BEST COMMUNITY
For
MID NORTH REGION
2009, 2013 and 2014
ECBAT Committee Members attending the recent KESAB Sustainable Communities (Tidy Towns) Awards were surprised and proud to accept the award for Eudunda.
Don't forget to attend the Australia Day breakfast to celebrate.
Additionally local KESAB Tidy Towns Awards & ECBAT Christmas Lights Awards were also presented at the breakfast.
This is an annual event organised by ECBAT.
Why not join ECBAT and keep our community strong.