The Eudunda Community, Business and Tourism Committee (ECBAT) are excited to announce through the Silo Art Management Committee that the Eudunda Silo Art Project is underway.
Eudunda through ECBAT received a Tackling Tough Times Grants to paint the Silo's, and further funding has been obtained from the Regional Council of Goyder to construct infrastructure such as parking area. paths leading to the artwork, an elevated viewing area which will eventually be lawned and further landscaping. As the silos, owned by Vittera are 'working silos' painting could not start until the silos were finished for the season.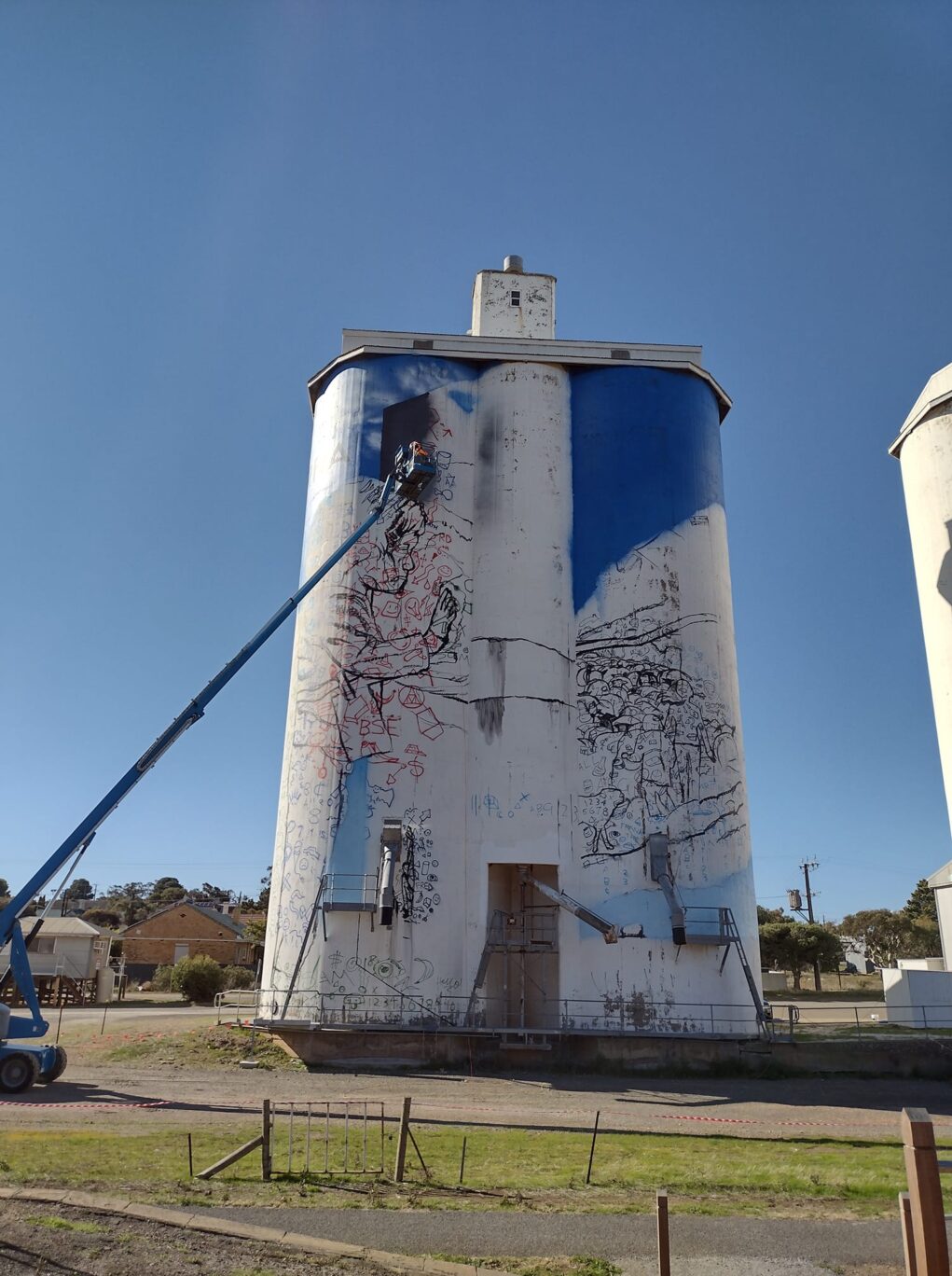 You are welcome to go and watch the painting unfold. There is plenty of room to park either off Railway Parade, or over at the Eudunda Gardens and the work in progress is only a short stroll away. Note that our Silo Artist Sam Brooks can only paint when the weather is kind to him. The project (weather depending) is hoped to take about six weeks. ECBAT hope that the Silo Art will be another reason for Tourists to come to Eudunda for a visit or perhaps to stay. Certainly tourists have many things they can do in the area, and ECBAT is encouraging them to stay in our existing Hotel's Motel and B&B's and people now have the choice of staying in one of the 8 Powered Caravan Park sites or do 'Free Camping'. Whatever way tourists come and stay, they have the opportunity to find good country food, and to explore other features of the district. In fact Eudunda is so central to four main tourist areas, some people elect to stay in Eudunda where it is economic to do so and do 'day trips' to those areas. Now they have the extra excitement of watching the Silo's get painted! As well there are many other surprises to be put in place in the Railway Precinct, still to come. As well a longer term project, the restoration of the Eudunda Railway Station is underway and still to be looked forward too.
ECBAT thanks the Eudunda CFS for thier great work, blasting the silo surface in preparation for the painting to help with this community project.
After some 20 years of ECBAT trying hard to do something with this area, and hopes being dashed as each time the silos changed business hands; causing ECBAT to have to start negotiations all over again; finally everything seems to be happening at once.
Eudunda residents should be excited about all the positive things that are happening around the district.
More news to come. Keep an eye on the Eudunda Silo Art Facebook page for photo updates.