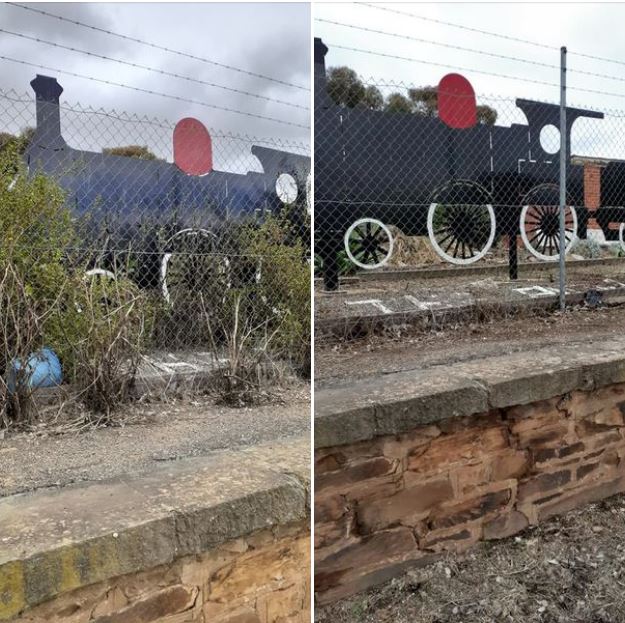 Saturday 7th Nov & Sunday 8th Nov – All Welcome – 10am
There is a working bee at the Eudunda Railway Station this Saturday and Sunday at 10am.
At the Eudunda Community, Business and Tourism Committee meeting last Monday night, guest Margaret Doecke spoke about the up and coming celebrations for the
"25th Anniversary of Unveiling of the Colin Thiele Sculpture & Celebrating Colin Thiele's 100th Birthday" on the 15th November. By the way – the community is invited – please RSVP – info on advert elsewhere.
Margaret told how she had started clearing the weeds around the trail silhouette in the Eudunda Railways Station as it was quite overgrown, and that it would be great if we could clean the yard of weeds before we have an influx of visitors for the Colin Thiele event. It will also make the site more attractive for all the Walkers and Cyclists that have been coming to Eudunda as part of the Lavender Trail systems.
OUR APPEAL TO THE COMMUNITY – PLEASE HELP.
Bring your gardening gloves, most of the weeds are pulled easily so please help get the railway station gardens looking great again! Perhaps if someone could bring a wheel burrow to move weeds to a central point for pickup (ring Margaret on 0458 900 655 if you can help with this)
Margaret is looking forward to seeing some members of the community come along and help from 10am on both Saturday and Sunday.
MANY HANDS MAKE LIGHT WORK – PLEASE MAKE OUR TOWN PROUD!