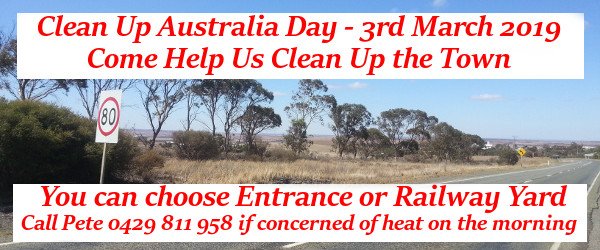 ECBAT Invite all to attend Eudunda's
'Clean Up Australia Day'
On 3rd March from 8:30am to 10:30am
Western Entrance to Eudunda (Kapunda Hill)
AND
On 3rd March from 9:00am to 12:00am
Eudunda Gardens/Railway Precinct
Please bring your gardening equipment and dress up for the 'Sun'.
having a couple mowers would be great if the weather is not too hot.
The clean up will be to tidy up around the 'Town Entrance or The Railway area'.
This is a vital area as it is seen by all who travel through Eudunda,
so it is important to have it looking tidy.