The Eudunda Community, Business and Tourism Committee (ECBAT) called for interested people to form a Sub Committee to plan for the Eudunda's 150th Year of European Settlement.
A small group of enthusiastic people attended the first meeting to begin planning in earnest.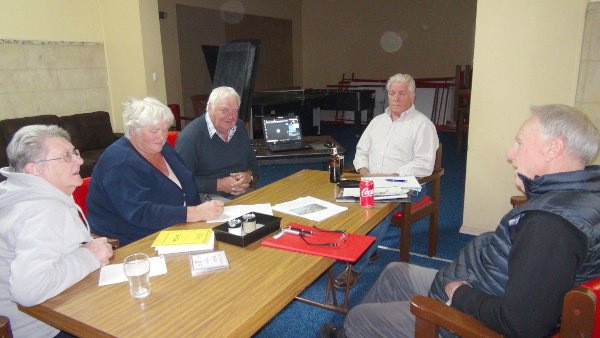 Attending this first meeting was Margaret Doecke, Dagmar Roocke, Philip Roocke, Bob Dabrowski, Trevor Mathews (ECBAT Chairperson) and Peter Herriman, and Samuel Doering.
The fact that Samuel, who was representing the Eudunda Family Heritage Gallery in this instance was able to participate within the meeting is a testament to the modern times we live in as Samuel was actually in Germany at the time, and this reflects on the committee's willingness for people to join.
'Brainstorming' session finds 140 ideas
This night was a 'brainstorming' session and many ideas were bought forward, from those attending and also some who had kindly emailed in prior to the meeting. In fact when fully compiled later on numbered over 140 ideas or trains of thought.
We are initially aware of 4 major items that coincide around the same time. If they are all combined over two weekends we ill have a great window of opportunity for people to come to at least one part of the celebrations.
EUDUNDA 150th CELEBRATIONS – Currently suggested as Fri 6th Nov – Sun 15th Nov
Colin Thiele's 100th Birthday – Actual day Mon 16th Nov 2020
123rd Eudunda Show – Sun 8th Nov 2020
75th Anniversary of the end of World War II – Remembrance Day – Wed 11th Nov 2020
With the thoughts of Street Parade, Art Exhibitions and Competitions, Music and combined with the always successful Eudunda Show there should be plenty of things to draw people to the district.
The committee will sift through these, choose ones that appear to be practical, fund-able, and relevant to the district and the visitors we hope to attract to enjoy the celebrations.
Peter Herriman, convenor for the meeting said,
"We are well aware that the capacity to hold big events is reliant on the people who volunteer to make the events work, so some of the choices we make will be in mind of not over-taxing the people involved, we do after all want them to have some time enjoying the events too.
If every organisation is able to contribute a little bit of time and effort – we can have a fantastic celebration, and a great reason for people to "come back home" to visit and for those interested in the various functions to visit and perhaps stay.
"We are going to send an email letter soon to all clubs, organisations and businesses inviting you to be involved, so please keep an eye out for it, and consider what you might be able to do to participate.
There will also be more news items about this event soon too.
"For now the greatest thing you can do is start talking to your relatives and friends who have moved away about coming back for that week, so they can plan ahead
"We wish to thank the Saints Clubrooms for allowing us to meet there for the first meeting and also to Deb Koodrin and her business 'Kooky's Kafe and Katering who operates at the Clubhouse. Deb looked after us for food and drinks during the night.
NEXT MEETING 23RD APRIL 2019 AT THE TOP PUB, 7pm
ALL WELCOME TO ATTEND.
Contact Peter Herriman for more information, and it would be great if you let him know you wish to attend.
Photo: L-R: Margaret Doecke, Dagmar Roocke, Philip Roocke, Samuel Doering (on Skype computer link) Bob Dabrowski, Trevor Mathews (ECBAT Chairperson) and Peter Herriman (taking Photo).