The region should embrace the good fortune that one of Australia's most famous Children's Authors and indeed having several of his books being based on this area.
What visiting child does not thrill at having a photo with Colin Thiele and Mr Percival the pelican's sculpture? And a play in the award winning Eudunda Centenary Gardens as well.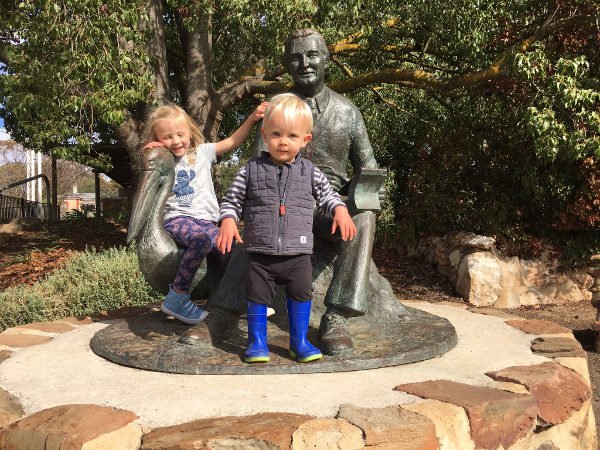 With Colin writing over 100 books, mostly for children, there are many stories to identify with and enjoy, both as a youngster and as an adult.
Not only is a visit to Colin Thiele and Mr Percival's sculpture almost a mandatory visit, there are many icons around the district dedicated to Colin Thiele and his works.
Colin Thiele Family History in the Eudunda Family Heritage Gallery
A collection of Colin's books and works also in the Gallery
Colin Thiele Drive, developed by the Gallery for Bus and car tours
The bus tours still attract many people each year.
Gustav & His Dog (fictional characters from Colin's book) have been developed into various icons

3 Town Entrance Walls
Gustav Markers to highlight historic sites
Eudunda Brand (used in many areas)

Eudunda Post Office stamp
Eudunda Show – Gustav Trail
SPORT Branding – Eudunda Golf Club – JAK Golf, Eudunda Darts, Eudunda 8 Ball
A large number of local Websites, & Social Media

Local Colin Thiele Website
Colin Thiele's works have remained popular:
Stage Plays have been developed and played in Sydney, Perth
Canberra has celebrated his works with a large event
Movies have been made of his works – Storm Boy, (just remade after 30 years)
TV Series Sun on the Stubble (also known as The Valley Between)
A Nature Park on the Coorong at Salt Creek has been created in his honour and in recognition of his conservation efforts.
There will be some exciting things for locals and visitors to celebrate when what would have been Colin's 100th Birthday next year on the 16th November 2020 (the celebrations will become part of Eudunda's 150th Celebrations).
It should be noted that many people around Australia still love to be part of Colin's story, and it would be sad if Eudunda did not embrace them and 'feed thier memories and imagination'.
Photo is of Emma and Jack of Yankalilla with Colin Thiele and Mr Percival. They were up visiting Paul & Helen Schiller, thier Grandparents. Photo Supplied, thank you Helen.